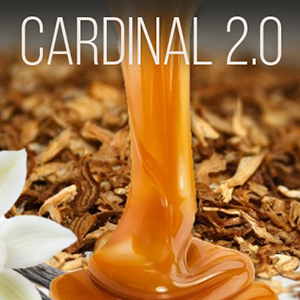 I have to give all the credit to FEAR for coming up with the original Cardinal( https://alltheflavors.com/recipes/24962 )! Without his expertise with tobaccos, this recipe would not be possible. Thank you.
If you're not aware the DIYFS has discontinued Holy Holy Grail RY4 V1, now you know. DIYFS has released a Holy Holy Grail RY4 V2, but it's just not the same. FEAR's original version of Cardinal was built on this flavor. And now that it's gone, what are we to do?
Well, I think I have found a really good equivalent to DIYFS Holy Holy Grail RY4 V1.... Flavor Jungle Holy RY4! This flavoring was originally designed as a one shot for Flavor Jungle(not to be confused with Jungle Flavors...2 different companies), but so was DIYFS HHG.
*As a matter of transparence, I was the creator of FJ Holy RY4. It's a silky smooth blend of mild golden leaf, sticky caramel, and sweet vanilla cream, with a touch of mocha for the finish. It was my intent to try to "clone" DIYFS' Holy Holy RY4 V1 so that recipes like this would still be able to be mixed and enjoyed. I hope that you will try it because it truly is a great substitute for HHG V1. *
FJ Holy RY4 is a bit different than HHG, it has more vanilla and is a bit more sweet. But in this mix, I thoroughly enjoy it. If the sweetness is a bit much for you, you can add 0.5% FA Bitter Wizard. It takes a bit of the sweetness out and gives it a more "Tobacco" vibe.
If you love FEAR's original Cardinal and you no longer have access to HHG V1, I think this mix will satisfy your cravings.
You can pick up FJ Holy RY4 at https://flavorjungle.com/products/holy-ry4-one-shots .