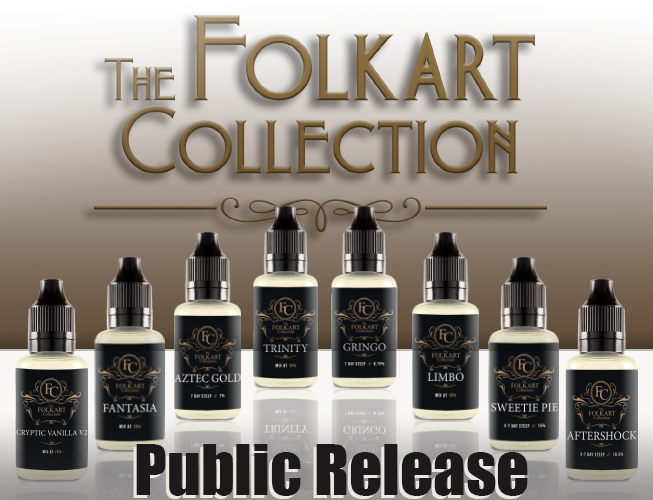 One Shots are a great entry level way to begin DIY mixing. It's also a convenient option when you just don't have time to gather flavorings and supplies to mix your favorite e-liquids.
If you have followed my work, you know that Freedom To Mix has released various One Shot lines over the last several years. The response has been outstanding and your support is so appreciated...thank you.
The main goal for Freedom To Mix's One Shot lines is to provide the public with delicious profiles at an affordable price. This allows you the consumer to get the flavors you want while helping FTM continue to create content and public recipes for the community. And while this model does benefit FTM's bottom line, it's not just about the money.
As you may know, Chefs Flavours is a huge supporter of DIY mixers, and they were so pivotal in the success of FTM's One Shot line, THE FOLKART COLLECTION. However, due to changing economic realities in the UK, this One Shot line was unfortunately discontinued.  It has been an honor for Chefs Flavours to have carried my One Shot lines and I have the utmost respect for Lewis and Carl for allowing me to present my work within their company. It is however a disappointment that THE FOLKART COLLECTION is no longer available to all of the wonderful people that supported me with their generous purchase.
And with that being said, I wanted to give back to the community by announcing that all of THE FOLKART COLLECTION recipes are now PUBLIC! Thank you to everyone who purchased THE FOLKART COLLECTION; your support makes FREEDOM TO MIX possible.
THE FOLKART COLLECTION
If you want to support Freedom To Mix, head over to Flavor Jungle and check out DEVELOPED's DINER line, along with Flavor Jungle's latest One Shots.