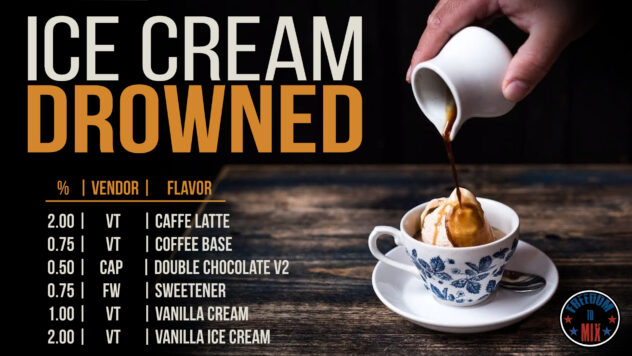 Free DIY Eliquid Recipes by Folkart - Affogato is the Italian word for drowned and this is exactly what this profile simulates. It's a mildly sweet vanilla ice cream, drowned in espresso, and topped with dark chocolate bits. Most Affogato drinks also have a nut added like hazel nut. I didn't add a nut flavor, but by using CAP Double Chocolate V2, it carries with it a generic nut, not necessarily a hazel nut, but similar.
As some of you may know, coffee is very tough to work with. Most coffee flavors have off notes of "burnt popcorn", "scorched coffee", and some even get a "skunk" note from them(ID10T). However, with the arrival of Vape Train flavors, I think they may have hit the mark when it comes to coffees, or at least a few of them.
VT Caffe Latte is an absolutely fabulous creamy coffee flavoring. The aroma is almost a spot on Affogato, but when vaped, it seems a bit underwhelming. It's great, but just a bit weak. VT Coffee Base is exactly the opposite of the VT Caffe Latte. The aroma is shockingly bad. You would never think it would work as a coffee base to build around. But vape it, and it is a rich coffee with no "burnt popcorn", "scorched coffee", or "skunk" off notes. So, by combining these two flavorings it makes for the perfect Affogato base.
The ice cream base I used here might leave some to say "Why didn't he use LB Vanilla Ice Cream?". Well, I did try it. And while I love that flavor, it seemed to not be the right ice cream note for this profile. But, if you don't have VT Vanilla Ice cream, feel free to sub it with LB, but use it around 4%. But I suggest to try it with the VT.
VT Vanilla Cream adds a bit more vanilla and seems to add a kind of "thinned down" ice cream like you would get when pouring hot coffee over and ice cream.
I added FW Sweetener to make it at a sweetness level consistent with an Affogato, but you're welcome to lower or raise it to your liking.
As a finishing note, I would like to say that I normally don't "brag" about my creations, but I have to say that this is probably my best mix I've done lately. But, I'll let you be the judge.
This is not a shake and vape, you need to let this steep for 7 days. If you do try it off the shake, you'll get a lot of vanilla and the coffee may be a bit up front. So, let it steep and I promise, you won't be disappointed....at least I hope you won't.
I hope you will mix, comment, and or rate, it make us all better mixers. 🙂
Visit Freedom To Mix on Discord https://discord.gg/cMUjtPf
Join our Freedom To Mix FaceBook group https://www.facebook.com/groups/415341418920740/
Follow me on Instagram https://www.instagram.com/folkart2000/