Oatmeal Cream Pie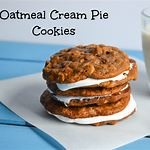 Oatmeal Cream Pie. This was a recipe based on one of my guilty pleasures. I love Little Debbie Oatmeal Cream Pies! The fluffy sweet cream smashed between two soft, chewy oatmeal cookies takes me back to one of my simple pleasures as a child.
When thinking about this profile, one would think the starting point would be some sort of oat or oatmeal flavoring. But as some of you may know from some of my other recipes, I rarely go the traditional route. As I was doing research,(after a empty box of Little Debbies) I realized that one of the main notes I was getting was ginger. So, that's where I started. This profile is best described as a chewy, ginger spiced, oatmeal cream pie.
The oatmeal cookie:
I wanted to see if I could bend CAP Gingerbread into a soft, chewy oatmeal cookie. Now I'm not sure if it's 100% authentic, but it's pretty damn close! I'm also relying on the power of suggestion in this recipe. And believe you me, the power of suggestion is real!
CAP Gingerbread is one of the most underutilized flavorings in my opinion. It has a very slight cinnamon note that fades to the background pretty quickly. It absolutely has a ginger spice that holds through the entire vape. It has a wonderful soft, chewy texture that reminds me of a soft oatmeal cookie and that's why I used it in this mix. I added FA Cookie at .5 % to add a bit more of a dark cookie note and add some texture and slight brown sugar notes. FA Cookie is good if you want to add darker notes to your cookie unlike CAP Sugar Cookie, while it's a wonderful flavor, it's more of a bright sugar cookie.
The Cream:
Anytime I want to add a fluffy cream to my profiles, TPA Bavarian Cream is my go to. Now it can be a little heavy in a recipe and that's why I added FA Cream Fresh at 1% to lift it up a bit and add some bright, fluffiness to the cream, just as the cream is in a oatmeal cream pie. I also added 1% TPA Vanilla Swirl to help cut through the creams and give it a more vibrant feel.
The CAP Super Sweet at .5% may be a little high for some people, but that's where I find it works the best for me(I do like my sweets). Feel free to use a lower percentage if you prefer a lower sweetness.
This can be a shake and vape, but if you let it set for just a few days the slight cinnamon dies down and the ginger settles in. Recommended steep time is 5 days.
I hope you will mix this up and see if it takes you back to your childhood memories of this delicious snack!
Visit Freedom To Mix on Discord https://discord.gg/SmSc8Ef
Join our Freedom To Mix FaceBook group https://www.facebook.com/groups/415341418920740/