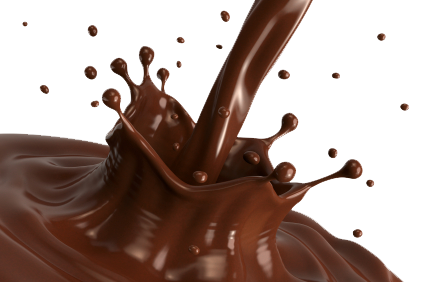 Mayan Milk
From day 1 of my mixing career I have been on a quest to make the perfect chocolate milk. And with many failures, I believe I have gotten about as close as I can to that profile with Mayan Milk.
As all mixers know, chocolates are one of the hardest profiles to tackle. The reason being that most, if not all, chocolate flavorings have off notes. But this shouldn't be surprising in that chocolate flavorings in the cooking world are bitter, chalky, and just down right nasty. Chocolates are derived from the cocoa bean or cacao(/kəˈkaʊ/) bean. The beans are dried and fermented, then made into a powder. Chocolate is made from this powder with the addition of sugars and fatty ingredients. So in essence, chocolate flavorings are like a spice and they need to have supporting flavors to make a good chocolate.
So, in my quest for the "perfect" chocolate milk vape, I approached chocolate flavorings as a spice. Now, I don't believe there has ever been a "perfect" recipe, but for a chocolate milk, I think this is as close as I can get,…. for now 😉 .
I began testing chocolate flavorings very early in my mixing career and the testing continues today. I have found a few that seem to work better than others and have the least "off notes", and those are the ones I used in my batching of this recipe.
For this recipe, I settled on CAP Double Chocolate V2. This is a highly under-rated flavoring in my opinion being that I don't see it much in other's recipes. It's a thick, deep chocolate, almost a dark chocolate, that only needs that sweet and fatty infusion to make it into a nice chocolate.
Most of my chocolate supporting flavorings have an inherent sweetness, FLV Cream, FA Meringue, LB Vanilla Ice Cream. These help add sweetness while adding creaminess and body to the mix.
I have noticed that most chocolate flavorings need either a coconut note, or a caramel note to simulate either cocoa butter(which is in most chocolates), or the caramel to simulate a richness like a caramel chocolate. In this mix I decided to go the caramel route. It seemed to be the better choice for a "Chocolate Milk" rather than using a coconut flavoring which seems to be better when going after a "Milk Chocolate" if that makes sense. FA Butterscotch was my choice at just 1%.
The secret weapon here to make this into a chocolate milk that would stand out among the others is HS Chocolate Cream. I absolutely love this flavoring. It gives the mix a certain "sourness", kind of like a yogurt but with more emphasis on the creaminess. It really makes the mix stand out.
In cooking, to make any real chocolate recipe, you have to sweeten it up. I added .75% CAP Super Sweet to accomplish this. If you find it too high, feel free to lower it. But trust me on this, CHOCOLATES NEED TO BE SWEET!
If there's one con to this recipe, I would say that when vaping this, I have to change my cotton about every 2 days. It's a pain, but so worth it.
This needs to steep for 4-7 days, but if you can, a 2 week steep is so worth the wait.
I hope you will mix, comment, and or rate, it make us all better mixers. 🙂
Visit Freedom To Mix on Discord https://discord.gg/cMUjtPf
Join our Freedom To Mix FaceBook group https://www.facebook.com/groups/415341418920740/